​Mission Statement
Our mission is…To fulfill the great commission by reaching people with the life changing message
of the gospel and to develop people into passionate followers of Jesus Christ,
As they become Internally Strong, Externally Effective, And Eternally Focused
---
Welcome To Our Website
We are honored that you are visiting our web site. Being an evangelistic church, we are always striving to find new ways to get our message out to current members and prospective seekers. This web site allows us to reach people we may never have been able to contact before.

Please use this site to access the information you need about the church and as a resource for broadening your faith. We look forward to hearing from you and answering any questions you might have.
---
Pastor Danny Janes with wife Tanna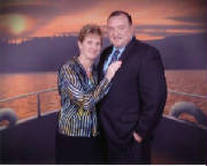 Are you looking for
a church home?
We invite you to join us.
We look forward to
meeting you.
---
---





This web site may contain links to, or be accessed through, links on World Wide
Web sites of other institutions, individuals, or groups. Liberty Wesleyan Church is not responsible
for the content, availability, operation, or performance of any other site to which this web
site may be linked or from which this web site may be accessed Testing.


Liberty Wesleyan Church
PO Box 579
15303 U.S. Hwy 158 East
Summerfield, NC 27358
Phone - 336-643-6968